PAUL REISLER & THREE GOOD REASONS
Paul has been blessed to work with some of the finest musicians in the world and his latest trio with Lea Morris and Marshall Keys is no exception.  LEA is a singer and songwriter whose "soul-folk" blends gospel, jazz, country and R&B with authentic, thought provoking song craft.  Born into a musical family in Baltimore, MD, she grew up hearing her father's trumpet and her mother's gospel vocals. Her work is often compared to Tracy Chapman, Joni Mitchell and Ani DiFranco.
According to Esquire Magazine, "Marshall Keys' dulcet tones and earthy compositions conjure the spirits of jazzmen past and future. From mainstream to contemporary, from bebop to hip-hop, he plays the saxophone with a sense of grace and emotion that is wholly without cliché."  Marshall has received a National Endowment for the Arts grant and was commissioned by the Smithsonian to perform the works of Wayne Shorter. Together they create an intimate and entertaining evening of Paul's songs and instrumentals.
PAUL REISLER & A THOUSAND QUESTIONS
Paul Reisler & A Thousand Questions features Howard Levy (Flectones), Lea Morris, and Joe Craven (Grisman Quintet, Jerry Garcia Band). They are joined on their album At Night the Roses Tango by Ysaye Barnwell (Sweet Honey in the Rock), Viktor Krauss (Lyle Lovett), John Gardner (Dixie Chicks), Kenny Malone, Fred Bogert (Trout Fishing in America) and Joe Smyth (Sawyer Brown).
KID PAN ALLEY BAND
Paul Reisler is the Founder and Artistic Director of Kid Pan Alley.  Their mission is to inspire and empower children to work together to become creators of their own music, and to rekindle creativity as a core value in education through the group songwriting process.
To date, KPA has written over 2,700 songs with over 65,000 children across the country from Virginia to Hawaii. The songs are a sophisticated and powerful world-view as seen through the eyes of the children, and have been recorded by Kid Pan Alley Band featuring artists including Amy Grant, Sissy Spacek, Delbert McClinton, Cracker, Kix Brooks, Nashville Chamber Orchestra, Corey Harris, Suzy Bogguss and many others. KPA has earned many honors for its work, including Parents' Choice Gold Awards, a Washington Area Music Association "WAMMIE", and a Grammy nomination.
TRAPEZOID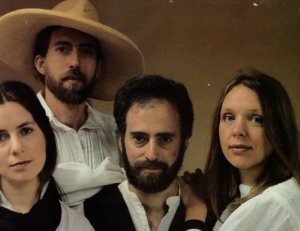 The Washington Post called them "the finest folk group in America." Stereo Review said, "they are a reason to believe there is still real music on this continent." Trapezoid was one of America's most popular and influential acoustic bands for over 25 years. Paul Reisler was the co-founder and leader of the band throughout that time.
In 2000, the most popular configuration of the band got back together—the 80's version with Reisler, Lorraine Duisit and Freyda Epstein.
When Long Time Down this Road was released, Sing Out Magazine said, "This retrospective CD of Trapezoid's musical travels represents the broad swath cut by this influential group—the musical innovation from one of our most creative ensembles." Their long journey down the twisting musical road ended with the tragic death of Freyda Epstein in 2004.