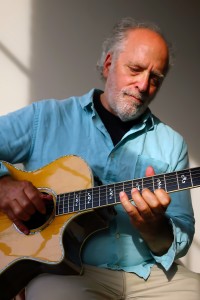 EVER SINCE HE STARTED making up songs at the age of five, Paul Reisler has led the musical life. He's a composer, songwriter, recording artists, performer and teacher. He's the founder and artistic director of Kid Pan Alley, co-founder of Trapezoid, as well as his current bands, Paul Reisler & A Thousand Questions featuring Howard Levy, and Three Good Reasons. Over the past 45 years, he's performed in over 3,000 concerts, recorded close to three-dozen albums, co-written Aesop's Fables for Orchestra and Narrator, as well as the script and songs for two new musicals–The Talented Clementine and Bouncin'.
He's has written more songs than the Beatles, Bob Dylan, Joni Mitchell, and Stephen Foster combined—somewhere north of 3,000 compositions thanks in no small part to his army of 70,000 short collaborators as well a handful of Grammy-winning co-writers. Artists including Sissy Spacek, Raul Malo, Darrell Scott, Cracker, Pinchas Zukerman, Corey Harris, Jesse Winchester, and many others have recorded his songs.
He's one of the most popular songwriting teachers in the country and has taught at workshops and songwriting schools including Rocky Mountain Song School, Song Camp Italy, Utah Song School, New Song Academy, Swannanoa Gathering, Augusta Workshop, Hollyhock, Kerrville, NSAI, Songcamp in the Mountains, Puget Sound Guitar Workshop, Berklee College of Music, University of the Pacific, and Moulin a Nef (France).